Il borgo medievale di Vinci, adagiato alle pendici del Montalbano, terra di uliveti e vigneti, deve la sua fama a Leonardo.
Leonardo qui nacque il 15 aprile del 1452. Il paese e i piccoli borghi circostanti ricordano e celebrano il poliedrico artista toscano con eventi e manifestazioni che si svolgono a più riprese nel corso di tutto l'anno.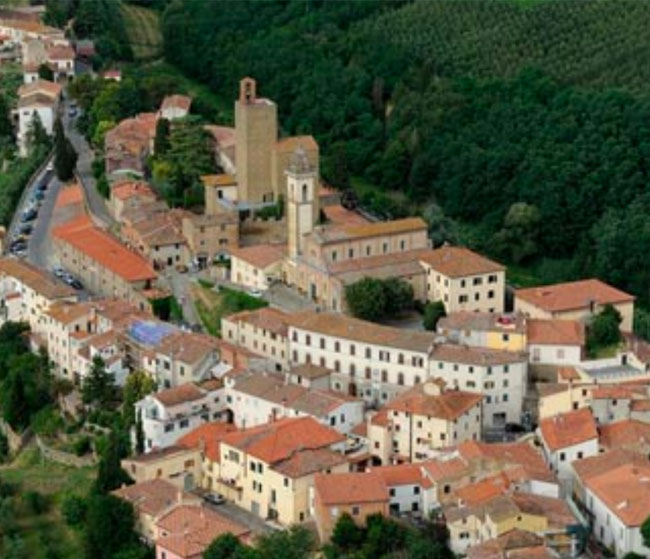 DA VINCI SUGGESTS: VINCI'S FLAGSHIPS
1. Leonardian celebrations
During the entire month of April this town becomes theatre of a rich series of cultural events, exhibitions, guided tours, conferences and shows recalling Leonardo's eclectic figure.
2. Leonardian Museum
In In the historic center, inside of Conti Guidi's castle and in Palazzina Uzielli, you will find the reconstructions of Leonardo's most famous creations. Here you will also find exhibitions and workshops for children.
3. Leonardo Da Vinci's museum
This is indeed a museum-construction site that aims to spread the most authentic and genuine synthesis of Leonardo's thought.
4. Cecco Santi's flight
This flight retraces Cecco Santi's vicissitudes as the Captain of his army. He was condemned to be shoved off Conti Guidi's castle for having betrayed his city for the love of a noblewoman. Cecco Santi managed to save himself drinking a class of Vinci's wine, which had prodigious properties, and flew until the hill in front of the castle saving his life.
5. July Fair and the Festival of the Unicorn
This great fantasy festival takes place in July among duels, magical arts, and a parade of magical creatures on the streets of the city.
6. Vinci's cuisine and winery
Osterias, farmhouses, street and slow food locations are waiting for you! Among the must-do of your visit in Vinci you definitely have to try the excellence of the territory: Chianti wine, olive oil, cold cuts, soups and stews – the latter are ideal also for the ones who opt for a vegan or vegetarian diet.
7. Vinci by bike
Thanks to the local renting of bicycles you can enjoy the wonderful views from our hills during spring and autumn days. Treat yourselves with a nice ride following guided paths which will get you to the top of Montalbano, from which you can admire the Arno river valley, Florence, Prato and Pistoia.
8.Leonardo da Vinci's birthplace
Just a few steps from Vinci's town center you can find the house where Leonardo da Vinci was born. It has been recently restored and you can visit it using the same ticket of the Leonardian Museum!
9. The Castle of Conti Guidi and Santa Croce's Church
This castle is also known as "the ship's castle" due to its elongated shape and its tower that together recall a sailing boat. Inside you can find many prestigious works, coats of arms and frescos, and a precious ceramic by della Robbia depicting a Madonna with Child. In the nearby Santa Croce's Church lies the baptismal font where – according to the legend – Leonardo da Vinci was baptized.
10. Leonardian library
Inside of Conti Guidi's castle, the Leonardian library hosts an entire room dedicated to Leonardo's optical studies on refraction and propagation of light, in addition to a collection of manuscripts that belonged to him.