Florence is the open sky theatre par excellence.

Every corner of this coffer-city contains medieval and renaissance architectural treasures awaiting to be enjoyed with constantly new eyes: the Santa Maria del Fiore Cathedral, Brunelleschi's dome, Villa Bardini's gardens, Giotto's Bell Tower…

You will see that in Florence beauty is everywhere, in the lesser known streets or in the details that didn't capture other visitors' attention: in every square, street, historic palace, the great artists and Maecenas of the past relive. The ones who contributed to making Florence Tuscany's cultural center.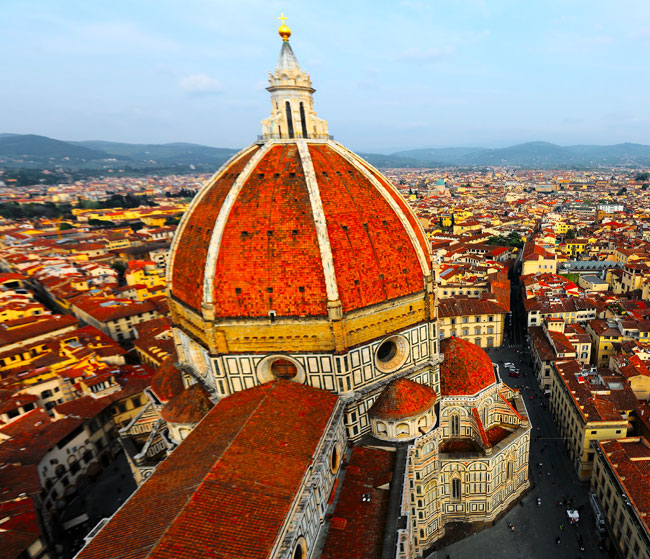 DA VINCI SUGGESTS: FLORENCE'S FLAGSHIPS
1. Uffizi Gallery and Vasarian Corridor
The Uffizi Gallery is one of the most known museums of the world, and it is divided into several rooms, each dedicated to a specific art period: here you will find works belonging to Giotto, Masaccio, Piero della Francesca, Botticelli, Caravaggio. The Vasarian Corridor, designed by Giorgio Vasari, unfolds above the streets of the city center, and it connects the Gallery to Pitti Palace.
2. Academia Gallery and Michelangelo's David
The Gallery, also known as "Michelangelo's museum", encloses in only one location the greatest number of sculptures from the well-known renaissance artist Michelangelo: among the most famous works we have the David, symbol of the freedom and virtue of the Republic of Florence.
3. Pitti Palace and Boboli Garden
Official residence of Tuscany's Grand Dukes, of Lorena's family and Elisa Bonaparte Baciocchi, Pitti is nowadays the seat of beautiful and very important museums: the Palatine Gallery, the Royal Apartments, the Moderns Art Gallery (GAM), the Silver Museum. Inside of Boboli's garden, outstanding example of Italian-styled gardens, sits an exceptional collection of classical sculptures.
4. Arnolfo Tower and Signoria Square
Palazzo Vecchio's tower rises upon Signoria Square since 1310: its interior hides a dungeon in which Cosimo il Vecchio and del Savonarola were kept.
5. Duomo Square and Battistero
Santa Maria del Fiore Cathedral (1296-1871) and its dome represent the vertex of intellect of Florentine art and architecture. The Duomo's façade, that still remains unfinished, faces the Battistero, dedicated to the town patron Saint John the Baptist. Battistero's doors are especially famous – one of which is known as the "Door of Paradise" – as they are decorated with bronze panels by Andrea Pisano and Lorenzo Ghiberti.
6. Walks along the Arno river and Ponte Vecchio by night
The Lungarni are just the perfect place for a nice walk at sunset before a cocktail. They elegantly split the city of Florence in two up until Ponte Vecchio, the oldest Florentine bridge. It survived the flood of 4th November 1966 and hosts the most beautiful and prestigious goldsmith shops of the city.
7. Piazzale Michelangelo: the terrace overlooking Florence
The Piazzale offers an unforgettable and picturesque view over Florence and The Arno river. It is definitely a must-see for all visitors.
8. Food and wine tours in local restaurants and historic osterias
Florence and its historic center offer infinite varieties of locals in which you can have dinner or taste typical products accompanied by a glass of Chianti. The simplicity of raw materials is perfect for lovers of traditional Florentine cuisine and for the ones who prefer gastronomic innovation.
9. Shopping streets: fashion, jewelry and high- quality craftsmanship
Starting from Tuornabuoni Street, a luxurious runway just a few steps from the Duomo, until the Oltrarno, Florence is filled with haute couture boutiques in addition to prestigious leather goods workshops – especially in Santa Croce – and jewelries.
10. venti in città in ogni periodo dell'anno: dallo Scoppio del Carro alla festa di San Giovanni, dal Maggio Musicale alla festa della Rificolona
In ogni periodo dell'anno il calendario degli eventi di Firenze è ricco di appuntamenti: dalle rievocazioni storiche in costume tradizionale ad importanti vernissage culturali e manifestazioni musicali, fino al glamour di Pitti Immagine e alle novità nel settore dell'arredamento e del design proposte durante la Fiera dell'Artigianato.